The Advanced Platinum LED P600 review is one of the biggest talks among any grow light. When you get a platinum award, you are getting the real deal. They are mentioned as the next generation grow light, why? This review will disclose everything you need to know. In all sincerity as to the features offered by this series I believe it to be the most powerful LED grow light in the market.
As for those that will be deciding to get the platinum LED 600W after this review will surely be getting a quality and efficient product that satisfies the cost price. Let get started!
Advanced Platinum LED P600 600w: Basic Info

The Advanced Platinum P600 is a powerful grow light, fully packed with some great features such as the highest PAR per watt, complete 12 band spectrum and so many more which will be unveiled gradually. It has a dimension of 36"x8"x3" and weight 24lbs quite heavy as compared to other grow lights. The Advanced Platinum Series P600 600W has a LED quantity of 200 pieces at 3w each and the LEDs are US made that provides excellent coverage for max/veg at 18 inches, 6 x 3.75 feet, and core/Bloom at 18 inches: 5 x 2/2.5 feet.
Advanced Platinum LED P600 is set to replace the 800W HPS drawing an average power of 184W for veg and 368W for Bloom. It possesses adjusting power drivers & auto-voltage sensing. Also, uses a voltage of AC85V-260V and 90-degree secondary focusing lenses. It is suitable long term use with lifespan lasting 100,000 Hours/ 8-10 years.
Go into Detail: Advanced Platinum P600 Features
The Best PAR Output
Incredible and excellent, PAR output does the Advance Platinum Series P600 600W is offering. With newer technology LED lights this has the highest PAR/LUMEN output PER WATT compared to any grow light and not simply that but a 2-3x intensity of any grow light.
This means your plants will get more quality light for absorption and grow better.
In the video below, you'll get detailed information about the PAR output of Advance Platinum LED P600 600W.
Watch Now!
The PAR value at the center is 1140 µmol m-2 s-1 while the hanging height of this light is 24″ and 1535 µmol m-2 from the height of 18″. Isn't that awesome?
It has the most powerful LED grow light, all thanks to their combination of ultra-efficient drivers and top US made diodes. You want quality, this is quality.
Advanced Cooling System
Advanced Platinum P600 comes with high speed four fans which are 2X silent than the ordinary heat dissipation systems. It is also equipped with upgraded cooling heating sinks. There are no issues relating to overheating and noise as the designs and material addresses this issue sternly.
Inside grow tents where the temperature is a bit more than 40°C most of the grow lights are not capable to work. Although the manufacturer doesn't recommend but we tested it at 42°C. The result was remarkable, cooling systems worked perfectly and maintained right temperature for plants inside the grow tent.
Superior 12 Band Full Spectrum
Here we go; this feature made me love the Advanced Platinum Series P600 600W more. You will find very few grow light that can be compared to this and the spectral output is great.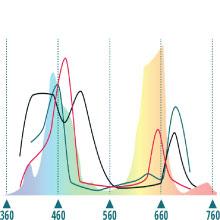 It will generate a full 12 band spectrum giving your plant exactly what they need for efficient growth and correct cell formation. It is a complete package of infrared at height and ultraviolet at depth.
Power Efficiency of Platinum LED P600
Offering extremely bright light by consuming minimum power is really a great deal for any grow light. When you know about PAR output and HPS replacing capabilities of Advanced Platinum LED P600 600W, you may think that it is going to burn a lot of electricity for sure. But you are wrong!
Ultimate power saver Advanced Platinum P600 can replace conventional 800W HPS, drawing 368W during flowering and 184 watts during vegetation mode. The light quality and intensity are totally moderate for a 600W LED grow light.
Excellent LED and Drivers
The Platinum LED P600 600W make use of combined efficient drivers and top US made diodes. LEDs are high quality and possess an auto-voltage sensing and adjusting power drivers which will present power overload. The LEDs comprise 200 Bridgelux with a 3W to transmit a quality light to your plants. LEDs are long-lasting with 100,000 hours.
Presence of VEG and BLOOM Switches
Yes, the Advanced Platinum Series P600 600W gives you the option of Selectable two switching modes. There are mainly two reasons to develop this advanced feature.
Firstly, your plants will get the perfect light according to different growth stages. In vegetation, your plants need more purple/blue light for leaf development so keep ON Veg Switch through this stage. When your plant comes to the Bloom Stage, turn ON the Bloom Switch to provide more pink/red lights which help in big & healthy buds. You can turn ON both switches during Bloom Stage but don't do that in the Veg.
Secondly, selectable two switches mode help you to save energy. In the VEG Stage, Advanced Platinum P600 consumes only 184 watts & 368 watts in the BLOOM Stage but offers you the same result as an 800W HPS.
Extensive Coverage Area
It covers an incredible area of 5 x 2/2.5 feet during flowering and 6 x 3.75 feet during vegetation. This coverage is one of the most suitable reasons that ranked it as the best grow light. The coverage is well directed with the right proportion of intensity.
We have discussed with some existing users about coverage who reported us almost the same thing that manufacturers claim.
But it's true, coverage area varies due to different canopy setup and height adjustment.
Top Service
Most grow light gives 3 years' warranty, but the Advanced Platinum LED P600 offers a complete 5-year USA based warranty plus a 90-day customer satisfaction/ return guarantee. When you offer a service of quality, you can be so sure of yourself and that exactly is what the platinum brand have done with their customer.
What About the Cost of Platinum LED P600?
Initially, someone can consider this LED as the most expensive grow light. But you have to think a little bit more.
Please look on Amazon to see how much just a single LED grow light bulb costs!!! I hope you understand what I mean.
Advanced Platinum P600 consumes less power so the cost of maintenance is low than many other lights. Due to the long lifespan and complete 5 Year warranty, you will be able to use this led more than 10 years & tension free 5 years.
Calculating all these, do you think it is a huge price when the light comes from an American owned and operated company with headquarters located right here in the US?
Most probably NO!
Advanced Platinum Series P600 600w: Hanging Height Recommendations
It's best practice to try mapping out the most suited hanging height for your individual strain of plant. Because there is no ultimate rule which tells you specifically that your plants will respond better to either more or less hanging height. End of the day main concern is to get healthy & green plants while giving the best light intensity possible.
Hanging the Platinum LED P600 600W Grow Light closer to your plants will get higher intensity but the coverage area will decrease. On the other hand, increasing the hanging height coverage area will be larger but lesser the intensity.
So you have to discover the balance that turns out best for you according to the strain of plants, growth stage & situation.
Ensure the green leaves are healthy & pointing toward the grow light. If you find any symptoms of curling or overall stress on the leaves, turn up the lights until the problem is resolved.
General hanging height recommendations are:
I) Seedlings Stage – 36" to 40" – VEG switch only
II) Early Vegetative Stage – 24" – VEG switch only
III) Late Vegetative Stage – 24" – VEG & BLOOM switches together
IV) Flowering Stage – 18" – VEG & BLOOM switches together
Advanced Platinum P600: Comparison with Similar Items
| | | | |
| --- | --- | --- | --- |
| Name | Advanced Platinum Series P600 600w | King Plus 600W | VIPARSPECTRA 600W |
| Dimensions | 36x3 x9 inches | 12.2 x 2.36 x 8.27 inches | 15.3 x 12.8 x 3 inches |
| Item Weight | 24 pounds | 6.6 pounds | 11.6 pounds |
| PAR Output (at 18" height) | 1535 µmol m-2 s-1 | 634 µmol m-2 s-1 | 784 µmol m-2 s-1 |
| Avg. Power Draw | 184w Veg / 368w Bloom | 125 watts | 260 watts |
| Daisy Chain? | NO | NO | YES |
| Veg Coverage | 6 x 3.75 ft | 3 x 3.4 ft | 3 x 3 ft |
| Bloom Coverage | 5 x 2 ft | 2.4 x 2.7 ft | 2.5 x 2.5 ft |
| Warranty | 5 years | 3 years | 3 years |
| Lifespan | 100,000 hours | 100,000 hours | 100,000 hours |
| | | | |
Another Side of Coin: Platinum LED P600 Cons
I haven't figured major difficulty specifically but what I can say that the price is high. Yes, it is costly but then you are paying for something and that is quality. Getting the Platinum P600 600W is getting quality and quality comes at a price.
Always wear protective goggles to ensure safety of your eyes while working in a grow tent because the light is very bright.
It's not waterproof, so be careful about water.
Advanced Platinum LED P600: Users Experience
179 people have reviewed on Amazon till now where the overall rating is 4.4 out of 5. Despite the high price, 76% of people have put 5 stars and you can enjoy their cheerfulness reflected in reviews at a glance. Cannabis growers are very excited about getting healthy buds. Isn't that enough to explain the perfection of Advanced Platinum Series 600w?
Now come to 7% dissatisfied users. We found technical and manufacturing issues behind this & they have got their money back as per schedule.
A Quick FAQ Round of Platinum P600 600W
I have tried to map all major things regarding this grow light but you may have some questions till now. If you already bought this still you should read it because you can get some useful tips for yourself here.
The easiest way to do this is to call on the customer service number mentioned in your documents. After claiming the warranty they are definitely going to help you out.
When you talk about customer service to grow light companies, Platinum LED is one of the fastest responding.
Please ensure proper storage of receipts and other paperwork.
These lights are powerful, if you place them nearby the power will be even more. As a result, your plants will burn out for sure.
Place them at 22 inches distance from each other. Also, take care of the hanging height of lights from your plants by following recommendations.
Advanced Platinum LED P600 consumes 345 watts for Blooming. I will suggest a maximum 3 lights per outlet box on the wall.
Advanced Platinum LED P600 Review: Final Word
This is not just a grow light but a picture of satisfaction. We would recommend it to our readers who are concern about the results but not with the money.
Guys, I really prefer the Advanced Platinum Series P600 600W, if you need a better coverage area, superior 12 band spectrum, excellent LEDs, incredible PAR output and you can afford it, I strongly advise you to get the Platinum P600 600W.
This is one of the best LED grow lights for cannabis growers. A top notch customer service and the confidence exhibited on their product is great by giving a 5 years warranty. The Advanced Platinum LED P600 600W is the idea grow light for any plant you do wish to grow.
I would love to know your view about the Advanced Platinum Series P600 600w LED Grow Light.
Also, Check-Out:
Best LED Grow Lights Reviews 2023: The Ultimate Guide