Each indoor grower wants possible best LED Grow Lights according to the budget which can support their plants throughout all growing stages from germination to flowering. MAXSISUN 300w LED is such a light that's developed after years of scientific research & experiment so it produces the maximum yields as well as ensure highest product quality.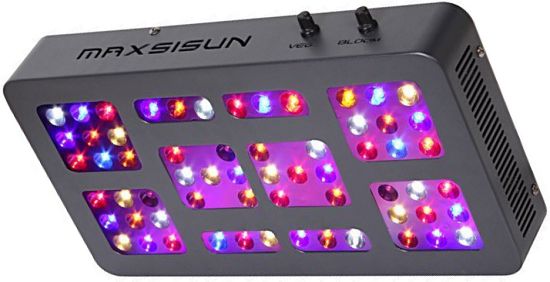 It is one of the cheapest and most affordable LED grow lights without quality compromise. This content is about MAXSISUN 300w review, come with me to discover everything about it!
MAXSISUN 300W LED Complete Analysis

12-Band Full Spectrum LED Grow Light with

Veg and Bloom Dimmers
These is 12-Band Full Spectrum LED Grow Light stimulates plants growth to enhance metabolic processes at any stage of the life cycle. Beside this, you can use dual-dimmers to adjust the brightness of light according to plant need to ensure the best possible yield.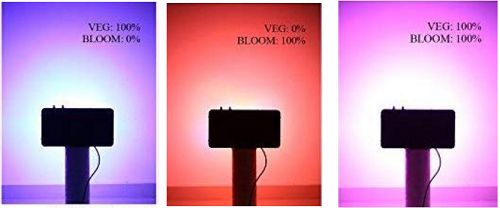 So it's equally good for blooming and flowering. Among 62pcs LEDs there are 3pcs IR looks dim but facilitate plant cell division and causes it to multiply.
Well-Balanced PAR Output
Due to new design LEDs layout and 5W Epiled/BridgeLux LEDs you get well-balanced PAR output that exceeding of traditional HPS/MH grow light. The Lumen/ PAR output and is 584 μmol at 18″ height.
Durable MAXSISUN LED Reflector
The strong & durable LED reflector with 90-degree beam angle ensures maximum light penetrates plant canopies up to 150%.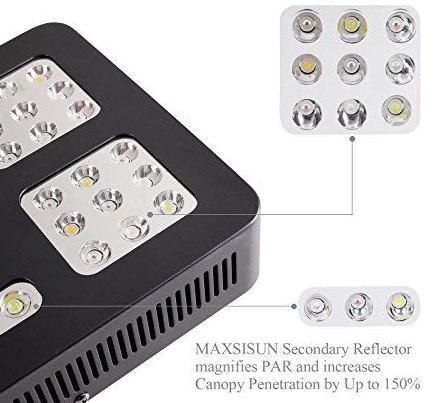 Modern Cooling System & Low Energy Consumption
This plant grow lighting system designed with a modern cooling system which keeps cool the device during operation. These lights are the perfect replacement of 250-watt HPS/MH while using only 142 watts of energy.
Daisy Chaining
Daisy chain ability enables the opportunity to link one more light for a larger growing space if needed.
Great Warranty & Long Lifespan
These plant grow light offers a 2-year warranty from the US-based after-service center. Moreover, these provide hassle-free 60-day return guarantee while maximum LED grow light in the market offer 30 days guarantee. It has a long Lifespan of 100,000 hours.
MAXSISUN Dimmable 300W Coverage

For the vegetative stage, MAXSISUN Dimmable 300W is enough to cover 3.5×3.5 ft. at 24" height. But when your plants come to blooming stage you have to reduce to 2.5 x 2.5ft. Look below to see the recommended height, hours and brightness for different growth stages in detail.
For Germination: 24"-28″ height, 14 hours on 10 hours off, VEG: 80%, Bloom: 30%
For Vegetative: 18″-24″ height, 18 hours on 6 hours off, VEG: 100%, Bloom: 50%
For Flowering: 16″-20″ height, 12 hours on 12 hours off, VEG: 100%, Bloom: 100%
MAXSISUN Grow Lights Review: Compare With Similar Items
| | | | |
| --- | --- | --- | --- |
| Name | MAXSISUN 300W | VIPARSPECTRA 300W | Galaxyhydro 300W |
| Manufacturer | MAXSISUN | VIPARSPECTRA | Roleadro |
| Color | Black | Black | White |
| Item Dimensions | 15.7 x 8.4 x 2.4 inches | 12.6 x 7.9 x 3 inches | 12.1 x 8.2 x 2.4 inches |
| Item Weight | 7.5 pounds | 5.6 pounds | 4.74 pounds |
| PAR Value (at 18" height) | 584 µmol m-2 s-1 | 427 µmol m-2 s-1 | 453 µmol m-2 s-1 |
| Avg. Power Draw | 142 watts | 128 watts | 130 watts |
| Daisy Chain? | YES | YES | YES |
| Veg Coverage | 3.5×3.5 ft. at 24" height | 2x2 ft. at 24" height | 3x3 ft. at 24" height |
| Bloom Coverage | 2.5 x 2.5ft. at 24" height | 1.5x1.5 ft. at 18" height | 2x2 ft. at 24" height |
| Return Guarantee | 60-days | 30-days | 30-days |
| Warranty | 2 Years | 3 Years | 2 Years |
| | | | |
Disadvantage
The main problem with this light fans is noisy. Some people also said that it may consume a little bit more power.
MAXSISUN LED 300W is not waterproof so typically we advise the unit is for indoor use only but you can use it outdoor patio area under cover.
You need to focus on protection for eyes when you will work for a long time under this light. One simple solution is, don't look at the light directly or you may use a LED Grow Light Safety Glasses.
FAQs
Is MAXSISUN 300w LED good for bloom?
– Sure, you can use this light for any growing stage. Just follow the height, hours and brightness suggestion.
Can I grow cannabis & succulents under This artificial light?
– Yes, this artificial light is strong enough for cannabis & succulents.
Can I Set it to turn on and off on a specific interval?
– Not actually, It doesn't come with an automatic timer.
Final Thoughts
Now you know pretty much about MAXSISUN 300w cheap LED Grow Lights which comes with good quality. Hope that you liked it, please feel free to ask any question regarding this light.
You can read Best LED Grow Lights Reviews to know about other top rated products. If you want to see other brands 300W low price lights please check Galaxyhydro LED Grow Light 300W & MarsHydro 300W LED Grow Light.