The King Plus 1000w LED Grow Light with Double Chips Full Spectrumincluding UV and IR for Plant seems to be a serious mouthful for newcomers in indoor planting. This is a high trending and popular Plant Grow Light at an affordable price.
Thousands of units have been sold already and most of them are satisfied. But what people are complaining about this light?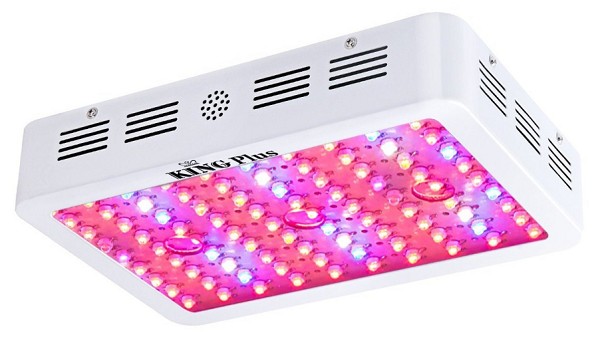 I will try to demonstrate why this is a good purchase for newcomers in indoor planting or low budget seasoned planters through King Plus 1000W LED review including all disadvantages.
King Plus 1000W LED Grow Light: Specifications &

Key

Features
The product features contain some interesting elements that make it one of the best-suited led plant light for indoor planting.
Unit Design Details
The dimensions of this LED grow light is 12.2 x 8.26 x 2.3 inches & weight is 6.39 pounds. King Plus 1000w utilizes 100pcs 10w Double chips LEDs instead of 3W and 5W bulbs which ensure a high light intensity and give a total wattage of 1000w. The range of frequency used in this device is between 50 and 60 hertz while the voltage is 85-265 volts.
The device is also designed to have a ten-year lifespan.
VEG & BLOOM Switches
The King Plus 1000w LED Grow Light offers Veg & Bloom switch to provide proper light for plants in different growth stages to increase your harvest significantly. So you will have manual control over the spectrum.
VEG Switch is for the germination phase which contains blue and white LEDs (430-660nm). Stronger concentrations of blue light are essential during seedling or beginning of leaf stage for sprouting and development of solid roots.
Bloom Switch is for the flowering and fruiting phase which contains red and white LEDs (430-740nm). Red wavelengths are essential for plant growth in several ways. Some particular red lights prevent the breakdown of chlorophyll by increasing the production of a hormone.
I  suggest turning on both switches during flowering and fruiting phase because Plants at this stage need full spectrum.
Full-spectrum: The Best Ratio Of Color
Through the optimal full spectrum, this light offers the best light waves to enhance the growth of plants at any stage. This is one of the most important elements of a grow light in terms of functionality.
The King Plus 1000w can be used in a variety of different ways to impact your plants and hasten a particular stage of growth. I tend to think of it as a replacement of the sun for my plant.
Simple Plug and Play Structure
They are easy to mount and set up. With a simple plug and play structure, this Light is a great addition for people who do not have much technological savvy. There is no need for any extra accessories or steps to use this grow light.
The PAR Value of King Plus 1000W LED Grow Light
If you set the light at 24 inches above the plants, in the center you get a PAR value of 432 µmol m-2 s-1. At one foot from center the PAR value is 397 µmol m-2 s-1 & at the corner of 3 feet it is 116 µmol m-2 s-1 while the core coverage area is 3 by 3 feet at 24 inches high.
But if you move the light closer at 18 inches the PAR value is 595 µmol m-2 s-1, at 12 inches is 1127 µmol m-2 s-1 and at 6  inches is 1934 µmol m-2 s-1. Moving the light back to 30 inches above the plants, you get a PAR value of 245 µmol m-2 s-1.
Energy-saving Technology
The King Plus 1000w full spectrum LED Grow Lights only uses 185w which makes it energy efficient. This lamp can replace 600w traditional HPS & makes it just as competitive as the others.
Advanced Cooling System
Some holes on led board, Multiple high-speed mute fans, and upgraded aluminum heat sinks together form a perfect heat dissipation unit for King Plus 1000w LED Grow Light.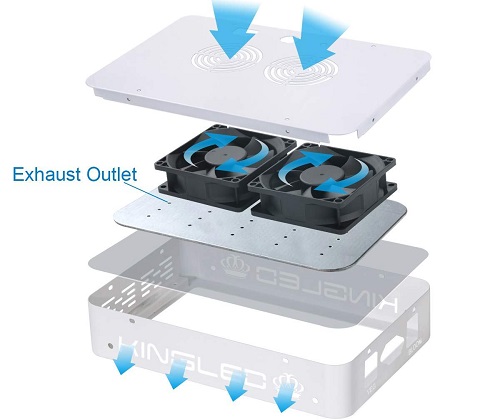 The working temperature is 50°F to 60°F which is lower than other lamps so your plant won't be burned.
Best LED Grow Light Under $200!
It is cheap! If you have a low budget for your lighting needs, then the King Plus 1000w LED Grow Light is the best led grow light under $200. The affordable price of this grow light is the most important attribute for any buyer. When I first saw this product, I was shocked because of the low price. In spite of this, it featured some of the best specifications in the industry.
King Plus 1000w Plant Grow Light: Customer Support

King Plus 1000w LED Grow Light offers 3 years limited warranty along with 90 days money-back guarantee if you don't feel satisfied after using it. Focus on the word "limited." Free repair is done for the full 3 years warranty period. But KingLED will pay the shipping cost for new parts to you for 180 days only. After that, you will get the parts free of cost but have to pay the shipping charges from your side.
Although It's a bit complicated compared to other manufacturers but customer satisfaction level is very high according to the Amazon reviews.
KingLED has a professional after-sale service team to answer your question within 24 hours and give you a satisfactory result.
Coverage Area & Hanging Hight of King Plus 1000w LED

King Plus 1000w has an adjustable coverage area. The grow light design allows it to be adjusted depending on an individual's set up or growth phase of your plants. This is a great benefit as it means that one does not have to keep moving the light but rather just adjust the areas that it covers.
KingLED claims this 1000w model can cover 3.4 x 3.8 ft maximum from a height of two feet.
It covers the flowering, fruiting, and vegetative states of growth. The hanging hight and lighting time will be:
Germination Stage – 26″ -30″ above the plants & for 14-18 hours a day.
Vegetative Stage – 20″-26″ above the plants & for 12-14 hours a day.
Flowering Stage – 18″ -24″ above the plants & for 9-12 hours a day.
Fruiting Stage – 18″ -24″ above the plants & for 7-8 hours a day.
Depending on the size of the grow area you may require multiple units to scale up your indoor growing operation.
King Plus 1000W LED: Comparison With Similar Items
Make a look chart below to see a Comparative analysis between King Plus 1000W LED & same wattage LED Grow Lights from different manufacturers.
| | | | |
| --- | --- | --- | --- |
| Name | King Plus 1000W | LUXAUTO 1000W | SUNRAISE 1000w |
| Manufacturer | KingLED | LUXAUTO | SUNRAISE |
| Color | White | Black | Black |
| Item Dimensions | 12.2x8.26x2.36 inches | 15 x 6.5 x 2.4 inches | 12.2 x 8.3 x 2.4 inches |
| Item Weight | 6.39 pounds | 7.15 pounds | 7 pounds |
| PAR Value (at 12" height) | 1127 µmol m-2 s-1 | 1079 µmol m-2 s-1 | 1058 µmol m-2 s-1 |
| Avg. Power Draw | 185W | 180watt ±3%W | 165±3%W |
| LEDs Angle | 120° | 90° | 90° |
| Max Coverage | 3.4 x 3.8 ft | 3 x 4 ft | 4 x 4 ft |
| Return Guarantee | 90 Days | N/A | 30 Days |
| Warranty | 3 Years | 3 Years | 3 Years |
| | | | |
King Plus 1000W LED Grow Light: Things We Didn't Like

It can be a health hazard to the customer. The bright light can affect eyesight especially if an individual looks directly into the grow light. As such, individuals with sensitive eyesight should avoid looking into these devices to prevent any damage. Or you may use LED Grow Room Glasses to protect eyes from the harmful lights when you need to work for long hours in grow room.
The temperature of its working environment is significantly low at only 40℃. If the temperature rises above 40℃ in the region where you are living, the cooling system will fail to dissipate the heat. As a result, your plants will die.
Not waterproof is another limitation of this unit. This light can damage due to a few droplets of water & The warranty will not help so you have to be careful about water.
King Plus 1000W LED Review: Quick FAQ Round
No. There are no special controls for the vegetative, flowering or fruiting phases. Rather, the amount of exposure time is what determines which stage is being promoted at a particular time. The only control is the power button for maximum user-friendliness.
Yes. My experience with the King Plus 1000w LED Grow Light has been great for long periods of use. The sleek design is especially useful in keeping the device cool even after extended periods of use. The king plus 1000w review supports this fact with many users stating that they have used the product for 24 hours without having any issues.
The light is actually set in this way. The middle light is the ultraviolet light that cannot be seen with the naked eye. The other LED seems to be off is infrared light which has a dim outlook. Do not worry that you cannot see the light because it is there and does work on your plants.
King Plus 1000W LED Grow Light Review: Closing Words
Saving on costs is a great motivator for purchasing grow lights, whereby this type of grow light can comfortably be said to be the best LED Grow Lights under $200. Clearly, the benefits and features of this product demonstrate why it is a great item to purchase.
You can check out our homepage to read reviews other Best LED Grow Lights in the market. Also, you can read the Beginner Guide to know the very basic thing about LED Grow Lights.