The King Plus 1000w LED Grow Light Double Chips Full Spectrum with UV and IR for Greenhouse Indoor Plant Veg and Flower seems to be a serious mouthful for newcomers in indoor planting. Simply called the King Plus LED 1000w, this is one of the most innovative technologies in indoor planting.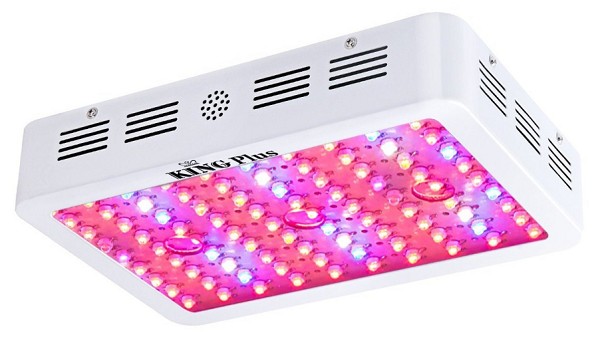 Check It Now On Amazon!
I tend to think of it as a replacement for the sun for my plant. I will try to demonstrate why this is a good purchase for newcomers in indoor planting or low budget seasoned planters through a King Plus 1000W LED review.
Unit Design Details
The product features contain some interesting elements that make it one of the best-suited led plant light for indoor planting.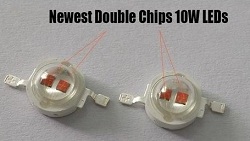 First, the King Plus 1000w full spectrum LED Grow Lights only uses 185w which make it energy efficient. It consumes the same amount of power that other similar products do & makes it just as competitive as the others. The grow light design utilizes 10w Double chips LEDs which ensure a high light intensity and give a total wattage of 1000w.
The King Plus 1000w LED Grow Light offers two differing lighting time setups which cater to the vegetative and flowering stages. Through a full spectrum, this light offers the best light waves to enhance the growth of plants at any stages. This is one of the most important elements of a grow light in terms of functionality. The King Plus 1000w can be used in a variety of different ways to impact your plants and hasten a particular stage of growth.
The range of frequency used in this device is between 50 and 60 hertz while the voltage is 85-265 volts. The device is also designed to have a ten-year lifespan.
Merits and Demerits of

King Plus 1000w LED Grow Light
Merits
It is cheap! If you have a low budget for your lighting needs, then the King Plus 1000w LED Grow Light is the best led grow light under $200. The affordable price of this grow light is the most important attribute for any buyer. When I first saw this product, I was shocked because of the low price. In spite of this, it featured some of the best specifications in the industry.
They are easy to mount and set up. With a simple plug and play structure these Light is a great addition for people who do not have much technological savvy. There is no need for any extra accessories or steps to use this grow light.
King Plus 1000w has an adjustable coverage area. The grow light design allows it to be adjusted depending on an individual's set up or plants. This is a great benefit as it means that one does not have to keep moving the light but rather just adjust the areas that it covers.
It covers the flowering, fruiting, and vegetative states of growth. The recommended hours of exposure for these setups are for the vegetative phase 12 to 14 hours, for the flowering phase 9 to 12 hours and for the fruiting stage 7-8 hours on.
The King Plus 1000w LED Grow Light can be controlled through a timer. This feature makes it extremely convenient to control the amount of time the light stays on. This is a good control measure that also saves the electricity use and saves you some money in the process!
Demerits
It can be a health hazard to the customer. The bright light can affect eyesight especially if an individual looks directly into the grow light. As such, individuals with sensitive eyesight should avoid looking into these devices to prevent any damage. Or you may use LED Grow Room Glasses to protect eyes from the harmful lights when you need to work for long hours in grow room.
The temperature of its working environment is significantly low at only -20 to 40℃.
Commonly Asked Questions and Answers
One of the benefits is that it caters to all stages of growth, does this mean that there are different controls for these stages?
– No. There are no special controls for the vegetative, flowering or fruiting phases. Rather, the amount of exposure time is what determines which stage is being promoted at a particular time. The only control is the power button for maximum user-friendliness.
Can the device run for a full day without overheating?
– Yes. My experience with the King Plus 1000w LED Grow Light has been great for long periods of use. The sleek design is especially useful in keeping the device cool even after extended periods of use. The king plus 1000w review supports this fact with many users stating that they have used the product for 24 hours without having any issues.
Why do some LEDs look so dim, in fact why does the middle light seem to be off?
– The light is actually set in this way. The middle light is the ultraviolet light that cannot be seen with the naked eye. The other LED seems to be off is infrared light which has a dim outlook. Do not worry that you cannot see the light because it is there and does work on your plants.
Bottom Line
Saving on costs is a great motivator for purchasing grow lights whereby this type of grow light can comfortably be said to be the best led grow lights under $200. Clearly, the benefits and features of this product demonstrate why it is a great item to purchase.
Click here to Check Price On Amazon
You can check out our homepage to read reviews other Best LED Grow Lights in the market. Also, you can read the Beginner Guide to know the very basic thing about LED Grow Lights.