Grow lights are an innovation that has revolutionized small-scale planting activities. Traditionally, people planted their vegetables and flowers in small gardens outside their homes and often relied on seasonality in order to grow their plants. Today, everything is different and exciting. For everyone who thinks that these grow lights are too expensive investment, I have great news. There is the BESTVA 1000W LED Grow Light which is the best led grow light under $200 that can cater to your every planting need.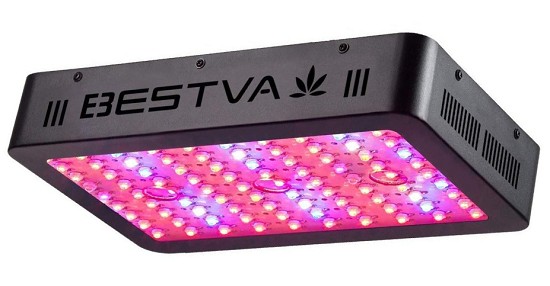 Check It Now On Amazon!
As a plant lover with my own small garden, I can truly say that grow lights have been a true innovation for everyone with a green thumb.
BESTVA 1000W Review: Product Specifications & Features

The most important feature from BESTVA 1000W review is that it has a full spectrum 1000 watt LEDs which are perfect for plants at any stage of growth. The full spectrum design is a feature that is crucial for setting the appropriate lighting for different plant growth stages. The dual-chip LEDs only use power of about 185 Watts making it highly energy efficient.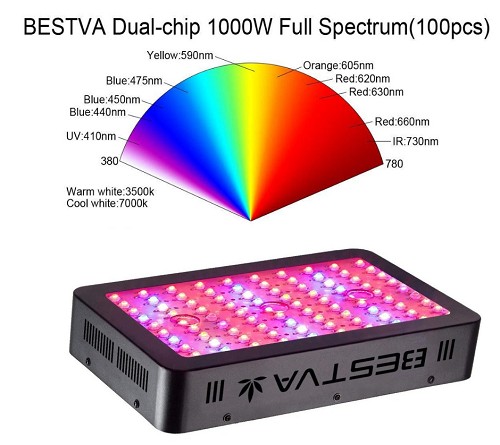 The unit is designed to run for 100000 hours. This feature makes BESTVA 1000W LED Grow Light one of the more long-lasting grow lights on the market. This is the equivalent of 10 years of operation.
This plant light features some innovative technology that makes it produce brighter light while being more energy efficient. The high lumen feature is responsible for this type of light emission. This is relevant in that high light intensity which encourage your plants to thrive.
The product is designed to offer a large coverage area which is 5.1 feet by 4.7 feet. That means it is perfect for individuals who want larger coverage with single light. King Plus 1000W LED Grow Light cover only 3.4 feet by 3.8 feet while BESTVA 1000W covers more area. So I think BESTVA 1000W LED Grow Light is a superior option than King Plus 1000w in terms of coverage.
These LED plant growing lights has a unique cooling system that is quite silent and can dissipate heat extremely effectively.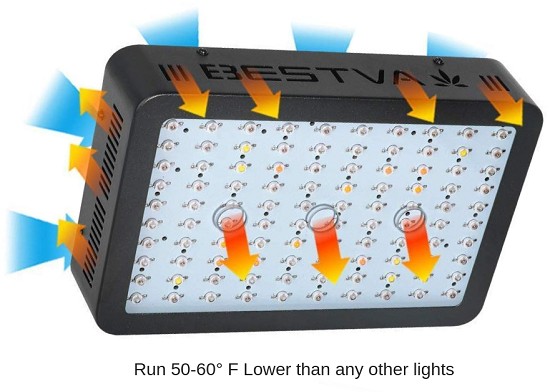 The light is designed to run at almost 50-60° Farenheight less heat than comparable types of grow lights.
Benefits of the BESTVA 1000W LED Grow Light
The greatest benefit of these plant light is they are low cost led grow lights for indoor plants. In fact, the BESTVA 1000W is actually the best led grow light under $200. This feature means that even if you are on a small budget you can actually access a quality grow light with reasonable coverage for your indoor planting area. It is a great product for people who have small indoor gardens or are beginners in using grow lights.
Another advantage is that it is quiet. The cooling system which includes cooling fans has been specially designed to enhance the operation of the grow light. Its quiet operation means that you do not have to listen to the whirring of fans all day long. This is simply a great benefit in term of added convenience to the user.
The BESTVA 1000W LED Grow Light is a great device for hydroponic planting as is shown in the figure below.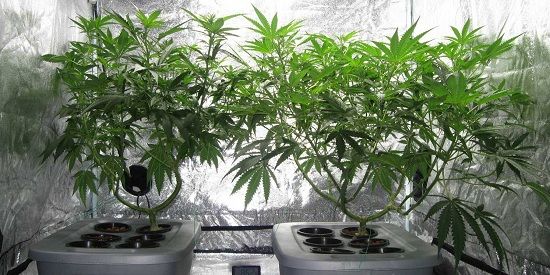 Essentially, the brilliant light intensity that it offers ensures that your plants grow nicely in diverse growing environments. While it can be used for plants growing in soil, the product is diverse in terms of growing environments. This is an added advantage for any serious planter.
The product also has great temperature control features that allow users to set the correct temperatures for their indoor planting areas. Some plants such as flowers may require a delicate temperature balance in order to bloom properly.
The device has a long period of operation according to the manufacturer's design. This means that you can further stretch your low budget to last for a long period of time. For me, this was one of the most convincing advantages of having the BESTVA LED Grow Light 1000W.
Pitfalls of the BESTVA 1000W
The device has some extremely bright light that can be harmful to an individual's eyesight. With the high lumen and 1000W capacity, the BESTVA LED Grow Light 1000W has some of the highest light intensity in the grow light market. As such, users have to be careful when using the product not to look into it so as to protect themselves. You may use LED Grow Room Glasses if you need to work for hours in LED Grow Room.
This lighting system is not waterproof so it can be damaged if they are in contact with water. For this reason, the product is only recommended for indoor usage.
There is no option for different growing phases and can therefore not be set to these important specifications.
Popular Questions About BESTVA LED Grow Light 1000W
Given that they are 1000W, does the grow light affect my electricity bill?
– No. these light is designed to be energy efficient so that very little power is actually used in keeping the light in operation. Average Power draw is 185watt-200watt only. I had similar concerns when I first encountered the device but soon found out that its awesome design limits the power consumption effectively.
How does the red spectrum affect the plant growth?
– The red spectrum affects plant growth in an extremely positive way. This will make your marijuana plants greener & healthy overall. From my own use as well as BESTVA 1000W LED review, plants respond quickly and positively to this spectrum.
The Final Verdict
BESTVA 1000W LED Grow Light is an impressive offering given that it is the best LED Grow Light under $200. For all individuals with a low budget and a passion for indoor planting, then this is the best solution for you.
Click here to Check Price On Amazon
You may read Best LED Grow Lights Reviews to know about other leading products for your indoor garden or hydroponic system.