Today, I am bringing the King Plus 600W LED Review directly to your doorstep. There have been some speculations on how good this product is. The king plus brand is a renowned LED Grow Light manufacturer. I am going to talk in-depth about the spec, features, benefits, and cons. So believe that this will help you to decide whether it is the perfect pick for you or not.
Additionally, after the review, you will be able to do some comparison with other grow light sold below $100 and see if this LED Grow Light is suitable for indoor planting.
Specifications of King Plus 600W LED Grow Light
The King Plus 600W has a dimension of 12.2×8.26×2.36inches, with a considerably lightweight of about 6.61 pounds. It makes use of the Epistar LEDs. This plant grow light offers a full spectrum for vegetative and flowering stage at wavelength 410 nm, 430 nm~440 nm, 450~475nm, 620~630nm, 650~670nm, White IR (730nm).
This model uses 60 pieces of LED at 10W, thus the power of 600W and a working voltage of 85v-265v. It operates on a frequency of 50~60hz. The light has a moderate life span of about 50,000 hours which is decent for a LED Grow Light.
King Plus 600W LED Review – Key Features
Full Spectrum
It offers your plant a full spectrum of complete light beaming on them. The right proportion of light is needed for effective growth, and you get that by buying this item. Spectrum delivers excellently well like sunlight.
Your plant enjoys various wavelengths from the grow light, the wavelength stages include 410nm, 430nm~440nm, 450~475nm, 620~630nm, 650~670nm, White IR (730nm).
Excellent Cooling System
Its wonderful design ensures that heat is dissipated excellently with the help of two high-speed quiet fans. It also boosts of an upgraded aluminum heat sink that helps to keep light cool and quiet. I am giving this feature 5 stars. So there is no cause to cry on overheating.
Quality and Upgraded LED Chips

Unlike the usual use of 3W, 5W LEDs, the king plus 600W makes use of 10W LEDs that are more bright and powerful. These 10W LED chips are engineered to keep the balance of PAR output.
Something fascinating about this chip is that the spoilage on of one chip cannot affect the operation of the rest because of the Zener protection it uses. The LEDs are of high quality and durability as it is being manufactured by Epistar.
Energy Saving
King Plus 600W saves you more spending, low electricity bill as it draws only 120 watts being compared to the tradition 600 watts HPS/MH.
Moderate PAR Value
In here, it is average but can still be worked with it. The PAR value you will get at 24 inches is 458 µmol m-2 s-1 and at 18 inches you will be getting 634 µmol m-2 s-1.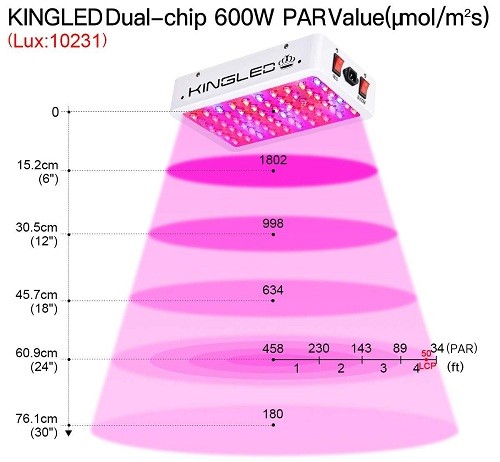 Daisy Chaining
Daisy Chaining feature will give you the opportunity to use multiple lights together without additional outlet & it's easy to install.
Top Customer Service
You get a 3 year's warranty after the purchase and a 30 day's money-back policy. The king plus runs on a 24 hour's customer service to attend to their entire customers.
Moderate Coverage Area
You don't expect to get a larger coverage area purchasing the king plus 600W because of its relative price, and it uses 10W LED. This grow light provides a coverage area of 3×3.4. This grow light is most suited for a coverage area of about 3 x 3.4 ft. and the height can be changed varying on the environment and different types of plants.
What Users Say About King Plus 600W LED Grow Light?
I found 1,143 customer reviews on Amazon till today which indicates how trendy this grow light is! The average feedback score is 4.4 Stars out of 5 and its just amazing for a grow light with below $100 price tag.
Most complainers put a poor review because they got broken unit & the manufacturer did the replacement.
Comparison With Other 600W LED Grow Light
| | | | |
| --- | --- | --- | --- |
| Name | King Plus 600W | VIPARSPECTRA 600W | Phlizon 600W |
| Dimensions | 12.2 x 2.4 x 8.3 inches | 15.3 x 12.8 x 3 inches | 15.8 x 2.4 x 6.7 inches |
| Item Weight | 6 pounds | 9.8 pounds | 4.85 pounds |
| PAR Output (at 18" height) | 634 µmol m-2 s-1 | 703 µmol m-2 s-1 | 350 µmol m-2 s-1 |
| Avg. Power Draw | 120 watts | 260 watts | 108 watts |
| Daisy Chain? | YES | YES | YES |
| Veg Coverage | 3 x 3.4 ft | 3 x 3 ft | 2 x 2 ft |
| Bloom Coverage | 2.4 x 2.7 ft | 2.5 x 2.5 ft | 1.5 x 1.5 ft |
| Warranty | 3 years | 3 years | 2 years |
| | | | |
King Plus 600W Review – Disadvantage
Main Disadvantage is, does not have the on & off switch for Veg/Bloom. It requires manual adjustment of the grow light height. Due to some factors, this item does not provide a good coverage area and somehow less intensity.
King Plus 600W LED Grow Light is not water-resistant. So, you have to maintain a good setup that keeps the light water or humidity-free as much as possible.
FAQ
Q: Does the panel come with any power cord & hanging hook?
A: Yes, it comes with 1pcs free power cord & 1pcs free hanging hook. The power cord is 6 ft long & the hanging hook is easy to install.
Q: Can these be run safely on a cycle of 20 hours on and 4 hours off for my Cannabis plants?
Yes! it is safe. Some people are using this light 24/7 for weeks. But you need to install a proper ventilation system for heat distortion.
Q: Can I use this for commercial growing?
A: Sure, depending on the size of your grow room you have to setup multiple panels. Daisy Chaining feature will allow you to connect one more unit easily.
King Plus 600W Reviews: The Final Wrap-Up
Generally, my deduction on the king plus 600W review is positive; I would consider it a good buy considering the price it is going down for. The features are quite remarkable and convenient for users to enjoy. The daisy-chaining feature and the complete spectrum is a plus point. Also, their concern for customer satisfaction should be applauded. The 3 years warranty and money back policy would ensure that you are able to return any unit delivered broken.
Click here to Check Price On Amazon
What is your thought on the king plus 600W grow light? I hope the review was helpful and thoughtful!
You can visit our homepage to find more trending LED Grow Lights for your grow space. Also, you may read VIPARSPECTRA Reflector-Series 600W Review which is popular among indoor grower including the cannabis community.