VIPARSPECTRA Reflector-Series 600W LED Grow Light is very popular among indoor grower including cannabis community. It's not difficult to show the reasons why this is one of the top LED grow lights in the market today.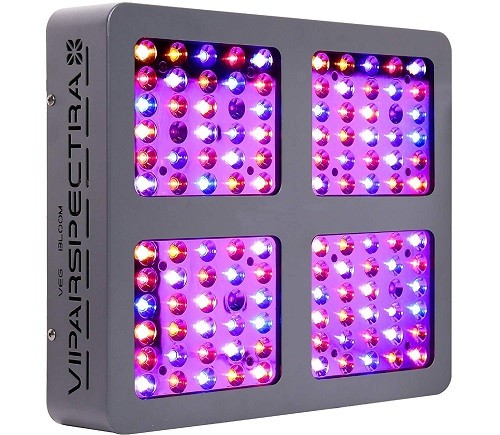 I will discuss elaborately counting Product description, Design, Specifications, features as well as disadvantages. UL Certified VIPARSPECTRA 600W LED Review will address all issues regarding this high quality led grow lights.
VIPARSPECTRA V600 LED Grow Light Features & Specifications
According to the manufacturer, this LED grow light is very well scientifically engineered & developed after years of experimentation and testing by professional indoor growers.
Optimal Amount Of PAR Output
Despite of low cost led grow light, VIPARSPECTRA Reflector-Series 600W is quite impressive for indoor gardening due to the Optimal amount of PAR output and coverage area. The PAR value in the center is 456μmol when the light was positioned at 24" height. At one foot from the center, PAR value decreases 306μmol to 332μmol & 56 to 64μmol at three feet.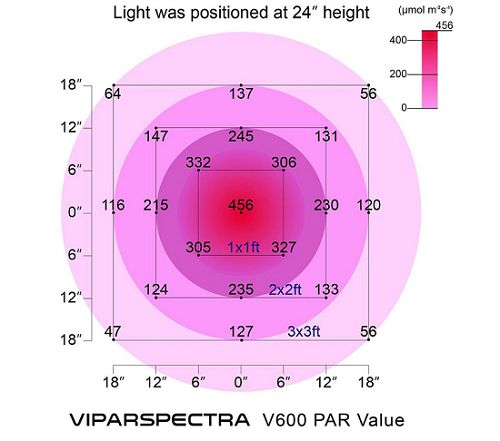 Energy Consumption
As this is 600W LED Grow light so you may arise a question about energy consumption. Great news for you, this is an energy-efficient plant  grow light & consume only 260 watts! So please don't be worry about a huge electric bill.
12-Band Full Spectrum LED Grow Light
VIPARSPECTRA Reflector-Series V600 600W is truly 12-Band Full Spectrum LED Grow Light including UV & Infrared. So your plant will get every light spectrum for all growth stage they desire from natural sunlight.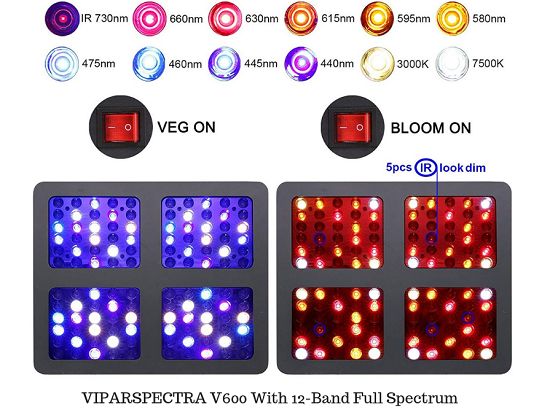 Moreover, these plant grow lights has two different switches for the vegetative and flowering stage. This feature allows you to control lights output depending on the grow cycle of your plants including cannabis. Maximum people love to use the VEG switch for vegetative stage and both switches (to ensure maximum PAR) for flowering. These switches also help me to cut off electricity bill during the vegetative stage.
Coverage
VIPARSPECTRA Reflector-Series V600 600W  contains 120pcs High-Intensity 5W LEDs with 90° view Angle. It's ideal for 3 square feet vegetative coverage at 32" height as well as 2.5×2.5' flowering coverage at 22". So you can grow a few cannabis plants with a single light. But If you are a commercial indoor grower or want to light a larger space you can buy multiples of this light and Daisy chain feature allows you to connect multiple lights together.
Lifespan & Warranty
This Grow Light has a long Lifespan of 100,000 hours with 3 years local warranty and 30 return guarantee.
Comparison Analysis With Similar Items
I am going to show you a comparison chart between VIPARSPECTRA 600W LED Grow Light, Phlizon 600W and MarsHydro 600W Led Grow Light. Believe that this chart will help you to choose the best LED Grow Lights according to your requirements.
| | | | |
| --- | --- | --- | --- |
| Name | VIPARSPECTRA 600W | MarsHydro 600W | Phlizon 600W |
| Manufacturer | VIPARSPECTRA | LG-LED SOLUTIONS | Phlizon |
| Dimensions | 15.3 x 12.8 x 3 inches | 18 x 11 x 3 inches | 15.8 x 2.4 x 6.7 inches |
| Item Weight | 9.8 pounds | 11.85 pounds | 4.85 pounds |
| PAR Output (at 18" height) | 703 µmol m-2 s-1 | 980 µmol m-2 s-1 | 350 µmol m-2 s-1 |
| Avg. Power Draw | 260 watts | 132 watts | 108 watts |
| Daisy Chain? | YES | YES | YES |
| Veg Coverage | 3x3ft at 32" height | 3x2.5ft at 24″ height | 2x2ft at 24" height |
| Bloom Coverage | 2.5x2.5ft at 22" height | 2.5x2ft at 18″ height | 1.5x1.5ft at 12" height |
| Warranty | 3 years | 3 years | 2 years |
| | | | |
Disadvantages of VIPARSPECTRA Reflector-Series 600W LED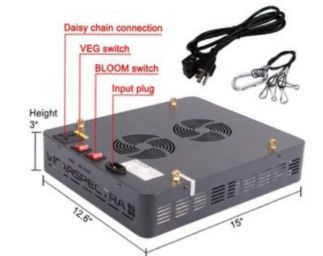 Before coming to the disadvantage directly I want to address some reviews from Amazon. Some reviewers put a negative feedback and they are talking about lack of daisy-chaining feature. I am not sure why people are thinking like this! VIPARSPECTRA Reflector-Series 600W LED Grow Light has a power inlet & a daisy chain outlet on the top. Each Package includes a standard US power cord and this power cord can be used as the daisy chain cord. For some manufacturers, you require to buy an additional cord for daisy-chaining but for this light, you can use the regular power cord.
One of the major problems of this light is not waterproof so you have to be careful about water.
The main disadvantage of this light is the balance of the color spectrum. Due to the inclusion of more blue light than red VIPARSPECTRA V600 LED Grow Light is more perfect for the Vegetative stage. Don't worry, this light can work for Flowering Coverage but best suited as a vegging light which makes this best grow lights for vegetables.
This light is extremely bright so the recommendation is not to look directly at the light when it is on. You may use a Best LED Grow Room Glasses when you will need to work in grow room for a long time.
FAQ From VIPARSPECTRA Reflector-Series 600W Review

Will I turn both lights on for veg?
I recommend turn on both switches for around 2-3 weeks after germination so that the plants can mature enough to handle the increased intensity. After that, you can turn on switches separately according to the growing stage. For vegetative growth, I recommend to use VEG Switch only and for flowering stage, I advise using both VEG and BLOOM switches. Don't forget to adjust the hanging height according to your plant growth stage.
Is this grow light loud or make a noise?
Don't worry, two internal cooling fans working noise is only 65bBa.
How many plants can I grow with a single light?
I recommend you for 4 plants under a single light. But you can connect one more light using daisy-chain feature if you want to grow a large scale.
Final Thoughts
VIPARSPECTRA is a reputed company, they respect customer concerns and replace defective units without asking any question! So I always suggest our readers look out VIPARSPECTRA LED Grow Lights before purchasing a light.
VIPARSPECTRA Reflector-Series 600W gives you the opportunity to low-cost entry into the world of LED plant lighting without compromising quality. If you are a mid-tier cannabis grower and want to grow up the garden you may add a few units to your growing space.
Also, Check Out: